Welcome to Juniper Face + Figure
No Needles. No Toxins. No Pain. No Downtime – And Facelift Results!
EMFACE is a revolution and one of a kind facial treatment mimicking the results of your modern day facelift.
Juniper Face + Figure is proud to offer the very first EMFACE in Montana and we are even more proud of the incredible transformative pain-free results we are seeing in our clients! One of the newest advancements in facial tightening and toning technology, EMFACE in Bozeman is reversing years to decades of facial aging through the use of Synchronized Radiofrequency and HIFES™ (high-intensity facial electromagnetic stimulation) technology.
EMFACE in Bozeman targets muscles and skin simultaneously to tighten, tone, strengthen, and lift the face and neck while restoring your facial contours without needles, pain, downtime, or toxins.
Synchronized Radiofrequency targets the skin by firming, lifting, and tightening. HIFES™ technology selectively targets your muscles and the SMAS (tissue layer that connects facial muscles to skin) to increase their density and strength while restoring their support of facial tissues while creating a lifting effect from the collarbone up without the use of needles.
At Juniper Face + Figure, clients can expect tighter, lifted, and firmer facial features that are volumized through boosted collagen and elastin production (200%). Our client's jaw-dropping transformations are precisely because they are looking years and years younger. No wonder we are calling EMFACE "Needle-free Botox and Fillers!"
EMFACE - Client 68 Years Old
Four Sessions of EMFACE, Photos taken 8 weeks after last session
EMFACE
These EMFACE Before + After photos were only 5 weeks apart! EMFACE results peak 8 weeks after completing the package so this client will continue to see improvements for several more weeks. Love EMFACE!
EMFACE - Client 50 Years Old
4 Sessions of EMFACE, Photos take 8 weeks after last session
EMFACE
EMFACE has totally transformed her profile by lifting and tightening her neck, jawline, and lower face. Skin has improved appearance by boosting collagen and elastin to create a more youthful glow.
EMFACE
4 Sessions of EMFACE, Photos taken 8 weeks after last session *Note client's improved and chiseled jawline, neck, and submental fullness (double chin)
EMFACE - Client 68 years old
4 Sessions of EMFACE, Photos taken 8 weeks after last session *Note: Collagen and Elastin production have filled in her cheeks, undereye area, and temples
EMFACE
4 Sessions of EMFACE, Photos taken 8 weeks after last sessions *Note: Client looks like she's lost significant weight as EMFACE has cleaned up her submental pad (double chin), tightened her neck and jaw, and made her overall face lifted and tighter
EMFACE
Numerous improvements including: Entire face has tightened, forehead and frown lines have softened, under eye hollows have improved, nasolabial folds have significantly softened, client looks like she has lost weight, and skin texture and tone has considerably improved! Love these!
EMFACE
4 Sessions of EMFACE, Photos taken 8 weeks after last sessions
EMFACE
4 Sessions Completed with EMFACE, Photos take IMMEDIATELY after the last session (results peak 2 months after completing an EMFACE package)
EMFACE
These 'Before + Afters' are only 5 weeks apart. WOW! What an incredible transformation in such little time. EMFACE results peak 12 weeks from starting the treatment but we will definitely celebrate victories like these! She looks absolutely incredible!
EMFACE
As you can see, EMFACE has significantly boosted her collagen and elastin production, softened fine lines and wrinkles, lifted her face and neck, filled natural looking volume in areas where she was flat and gaunt, and has given her a complete rejuvenated overhaul. Beautiful!
EMFACE
Can you imagine looking 10 years younger in as little as 5 weeks? That's what happened for this beautiful client! We are so thrilled her with results!
Consultation Required?
Yes
Treatment Length
20 minutes once a week (for 4 weeks)
When to Expect Results
Immediately! Results will also peak 2 months after your last session.
What to Expect + What it Treats
37% Wrinkle Reduction
23% Lifting Effect from the Collarbone Up
30% Increase in Muscle Tone
19% Increase in Muscle Density
200% Increase in Elastin Production
26% Increase in Collagen
Strengthens all Connective Tissues
Toning, Strengthening, and Shortening of Facial Muscles that Help Fight Gravity
Uneven Skin Texture and Skin Tone
Undefined Cheekbones
Hollowed Under Eyes and Tear Troughs
Loss of Facial Volume
Minimizes Pore Size
Drooping Forehead
Excess Facial Fat
Crepey, Aging Skin
Sagging Jowls and Excess Neck Tissue
Low Setting Eyebrows
How EMFACE Works
By emitting both Synchronized Radiofrequency and HIFES energies, EMFACE in Bozeman simultaneously affects facial connective tissues, muscles, and the skin. Clients who complete an EMFACE package will see results providing them with fewer wrinkles, improved texture and skin tone, and a more natural lift and tightening from the collarbone up without the use of needles. EMFACE requires one warm pad on each cheek and forehead and provides 75,000 facial contractions in just 20 minutes. Completely pain-free, clients will be able to see their results immediately!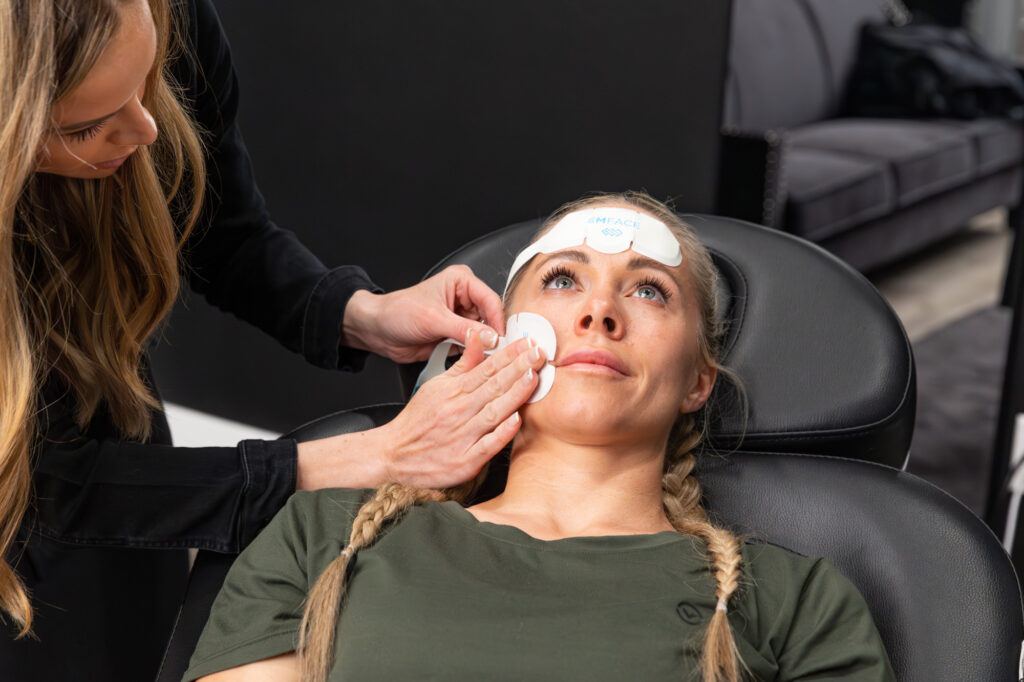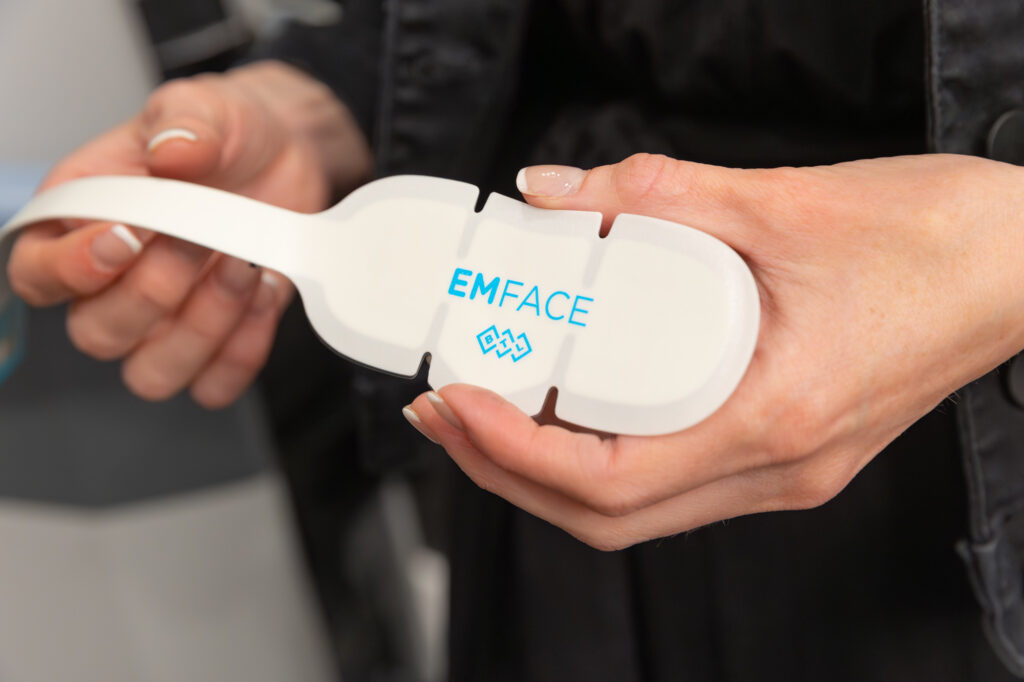 What to Expect
The EMFACE Process
Consultation
Enjoy a complimentary consultation with one of our expert staff members to learn exactly how EMFACE can benefit you. Review several examples of our very own EMFACE clients and their beautiful results. Have all questions answered prior to filling out our simple health questionnaire and schedule your four, 20 minute EMFACE treatments (one per week) with Juniper.
EMFACE Treatment
At your first EMFACE treatment in Bozeman, we'll prep your face by thoroughly cleaning the cheeks and forehead. Application of the pads is quick and gentle and you'll begin feeling the soothing warmth from the radiofrequency reach your skin. We'll slowly increase the contraction strength to a comfortable level (although all clients usually reach 100% in the first 5-7 minutes). The entire treatment will last 20 minutes. The pads will be easily removed and your skin will look slightly pink, almost as if you just finished a mild jog. You can apply moisturizers and makeup if you prefer and go on with your day as normal.
Your EMFACE Results
You will start seeing results immediately after your treatments. Results will peak 8 weeks after your 4th (and last) treatment and will continue providing facial tightening and lifting improvements for the next 12-15 months. Once completing your EMFACE package, you can now enjoy maintenance sessions discounted to you through Juniper for LIFE!
Special Offers
Treatment Promotions + Special Offers
Juniper has always been committed to excellence and putting our clients first. Here are many other discounts and offers we gift to you when you choose EMFACE in Bozeman at Juniper:
Discounted Maintenance EMFACE Sessions FOR LIFE
Once you complete a package of EMFACE at Juniper, you will receive discounted maintenance sessions FOR LIFE. You will never find any other medspa that offers such generous discounts, but giving back to our clients has always been extremely important to us!
Pay in Full Discount of $200
Expect a $200 discount when you pay for your entire EMFACE package at your first appointment.
EMFACE  Double Package Bonus
Buy an EMFACE package, and receive $1500 off any EMSCULPT NEO package at Juniper. Receive discounted maintenance sessions FOR LIFE on both!
Discounts on the World's #1 Medical-Grade Skin Care Products
50% OFF – ZO SKIN HEALTH's Anti-Aging Skin Care Kit (Valued at $240 – You pay $120). Kit includes an Exfoliating Cleanser, Exfoliating Polish, Complexion Renewal Pads, Daily Power Defense, and the "Liquid-Gold," Growth Factor Serum.
Show Off Your Results!
Customized Before + After Photos of your EMFACE results. Photos will be provided immediately upon completion of your EMFACE package and again 8 weeks later when your results have peaked!
FAQS about EMFACE in Bozeman
Is EMFACE safe?

The EMFACE facial toning device was made by one of the most recognized names in medical aesthetics: BTL. BTL products have a reputation for both their safety and effectiveness, and our highly trained providers can assure a successful outcome when using the EMFACE device.

What is the difference between EMFACE and EMSCULPT NEO?

Both EMFACE and EMSCULPT NEO utilize RF (radiofrequency) to provide heat to stimulate the production of collagen, elastin, and new skin cells. Radiofrequency technology also firms and lifts sagging skin, too. EMFACE uses HIFES (high-intensity facial electromagnetic stimulation) and EMSCULPT NEO uses HIFEM (high-intensity focused electromagnetic) technology. Both are extremely powerful but EMFACE is a nonsurgical facelift treatment whereas EMSCULPT NEO permanently destroys fat while simultaneously building muscles in 10 different body areas.

Is there any downtime for EMFACE?

EMFACE requires no recovery time and frankly, no one would even know you had treatment because it leaves your skin looking warm and refreshed. You can resume normal activities immediately after the treatment!

How do I know if EMFACE is right for me?

EMFACE in Bozeman is appropriate treatment for those looking for a toxin-free alternative to facial aesthetics. It is also suitable for clients looking for significant and natural improvements without the use of needles or pain. Don't want anyone to know you're seeking aesthetic treatments? EMFACE is your answer! Additionally, when it comes to advancements in age-related cosmetic treatments, EMFACE has become a hallmark treatment redefining that 'Beauty doesn't have to be painful.' It is checking all boxes for men and women's most common aging complaints – sagging skin, loose skin, heavy brows and forehead, jowls, extra skin on the neck, flat cheeks, hollowed eyes, dull and lackluster skin, and more. Reach out to Juniper Face + Figure today for your complimentary consultation with our kind and educated experts.

What is an appropriate age range for women considering EMFACE?

EMFACE in Bozeman is an appropriate treatment for women in their 30's and beyond. It not only significantly tightens and lifts, but it is suitable for those looking to be proactive and preventative when it comes to their own aging concerns. Many clients report lose or hanging skin, sagging jowls, and facial tissue that doesn't look or feel tight and toned anymore. EMFACE's powerful technologies target tissues deep, beyond the skin's surface. It strengthens connective tissue, improves muscle density, tightens the SMAS layer (the fibrous network below our skin's surface), 40% wrinkle reduction, lifts everything from the collarbone up, 30% increase in muscle tone, 26% increase in collagen, 200% increase in elastin, pore size reduction, improves pigment irregularities, and minimizes the amount of Botox and filler injections.

Is it truly pain-free, needle-free, toxin-free, with no downtime? It sounds too good to be true!?

EMFACE delivers on a promise. Unlike excruciating microneedling laser treatments (many times clients cannot finish these treatments because they are so unbearably painful), EMFACE uses pads to deliver it's radiofrequency and HIFES technologies. The treatments are 20-minutes in length, comfortably warm, and completely pain-free. No needles and no toxins are administered. Lastly, there is no need to hide out at home for days after your treatment. Clients can even return to work immediately following their treatment with colleagues being none the wiser. You skin is left looking rejuvenated and bright and no one would ever know you had a treatment done.
Try Our Virtual Consultation Tool!
Ready to look your best, but don't know where to start? Our virtual consultation tool will match your unique aesthetic goals with our best-suited treatments so you can feel ready and confident to start your journey with Juniper!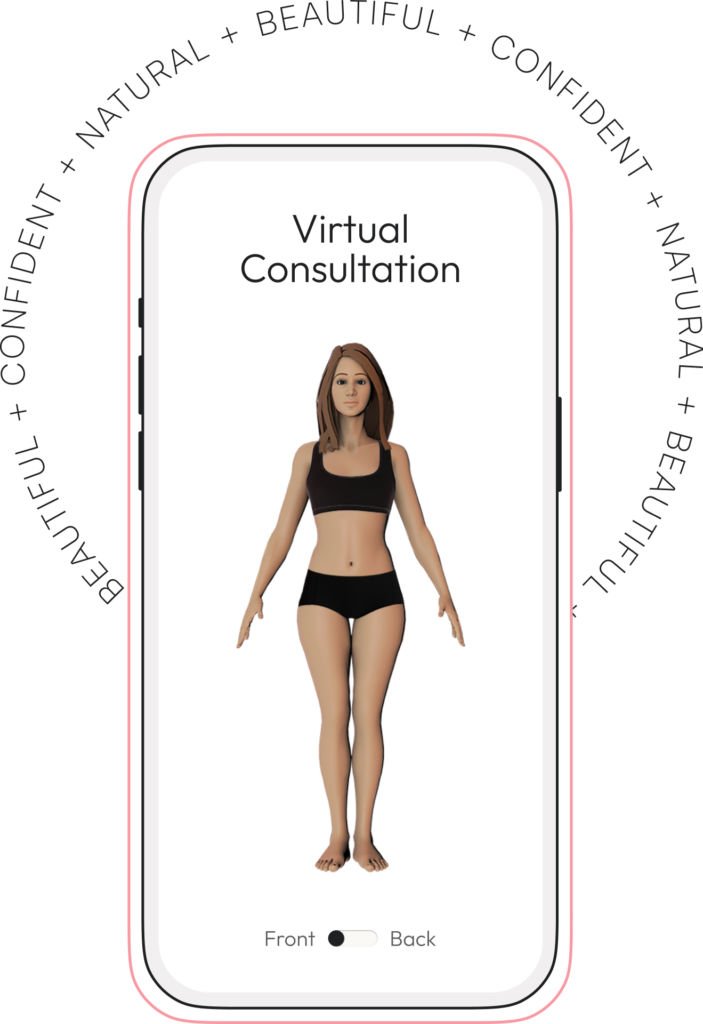 Creating Confidence in All of Our Patients
Located in the heart of Four Corners, Juniper Face + Figure is a leading medspa in Bozeman, MT. Our cosmetic injector Brett brings a unique approach to cosmetic treatments that focuses on artistry, detail, and patient education. Her unique and perfectionist touch helps patients feel empowered and confident, both in their treatment and in their results.